Here at Hog Roast Shrewsbury we have many years' experience in event planning and catering for an eclectic array of events in this very cultural market town on the River Severn. We love working here and we take great delight in making lots of people happy on a regular basis with our mouth-watering slow cooked pork and professional approach to event catering.
Hog roasting is an ancient cooking method that has no doubt been enjoyed on lots of occasions throughout Shrewsbury's long history and whilst we use the same principles, we have modernised this traditional cooking method and incorporated it with contemporary menus in order to introduce this delightful way of cooking meat to a brand new audience. By refining this amazing cooking technique, we have been able to significantly expand what we can offer and make our food suitable for all manner of occasions.
You may think that a hog roast is only suitable for rustic outdoor events, and whilst it is a fantastic option for these kind of gatherings, if you choose us to cater for your event, we can provide you with restaurant standard food that is also ideal for more formal events and special occasions. In addition to our trademark spit roasted pork, we also offer an impressive array of stylish buffets and contemporary 3 course meals that include a wide variety of different dishes alongside our classic slow roasted pork.
Shrewsbury's Leading Hog Roast Company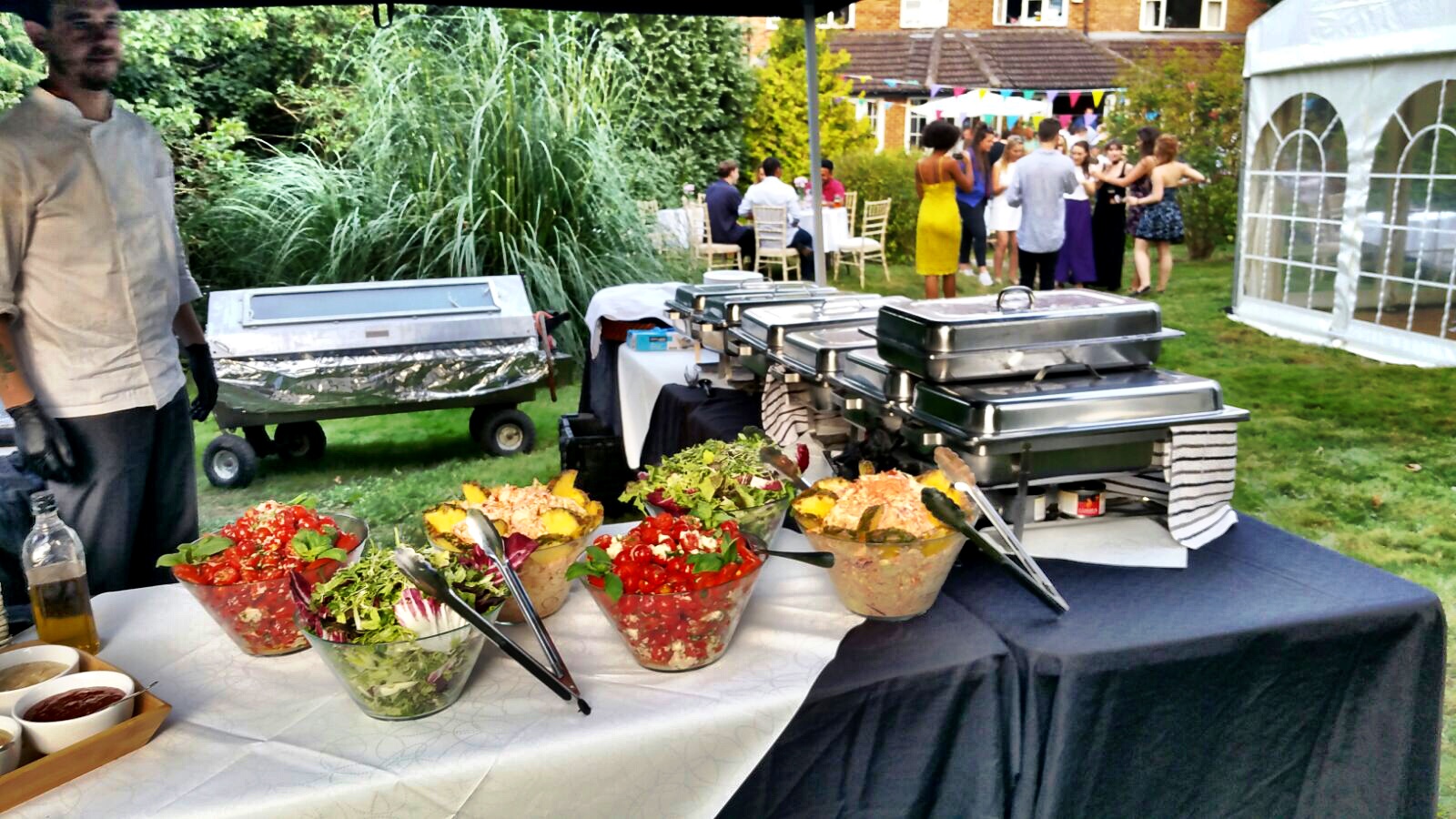 Thanks to our extensive experience and expertise in mobile event catering, we have gone on to become the leading hog roast company in Shrewsbury. The Hog Roast Shrewsbury team offer the perfect balance of high-quality food, full flexibility when it comes to menu options and the location of your event, and an excellent standard of customer service, which will be tailored to meet your specific requirements. We are able to cater in any type of venue in Shrewsbury, from large outdoor spaces to cosier indoor venues at any time of year because we have any incredibly versatile catering team who can perform at an extremely high level when catering in any setting, as well as industry-leading catering equipment that is both compact and multi-functional.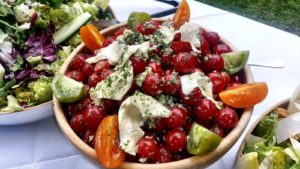 We are just as comfortable catering for several hundred people at a large outdoor event as we are cooking for a smaller private party in an indoor venue. Our equipment and our catering team are never out of place in any environment and we are completely self-sufficient. We never rely on pre-made dishes or help from third parties to be able to deliver the standard of food and service that you deserve. On the day of your event, we will arrive several hours before the food is due to be served and whilst our on-site chef is doing an excellent job of tending to the pork as it slowly roasts until it is falling off the bone, the rest of our dedicated catering team will be working together in perfect harmony to prepare the rest of the delicious dishes on your chosen menu.
Here at Hog Roast Shrewsbury, we take the quality of our ingredients very seriously and everything we put on your plate will have been carefully selected from the best locally sourced produce that Shrewsbury has to offer, from our ethically reared meat to our free range dairy products and organic fruit and vegetables. The quality of our ingredients and our ability to prepare and present them to such an excellent standard, is something that we receive positive feedback about from our clients at every event we cater for.
In addition to providing you with a superb standard of food, we are also able to take care of all of your service requirements for your event. We have our own professional events team who are able to provide a warm welcome and full table service if you would prefer a more formal sit-down meal. When it comes to event catering in Shrewsbury, we have all bases covered and we take care of every detail to ensure everything runs like clockwork and everyone has a great time.
Expert Event Catering For Any Occasion
Whether you need catering to feed the crowds at Shrewsbury's famous flower show or one of the town's many cultural festivals, a varied buffet on the banks of the River Severn for a private party or an elegant 3 course meal for your wedding reception, we have menus that cater for all type of occasions and for all budgets, tastes and dietary requirements.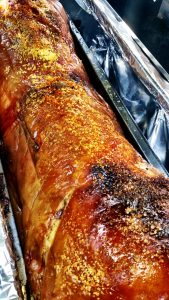 We may be best known for our high-quality pork, but we also offer a tempting array of other options depending on your preferences, the nature of your event and the needs of your guests. Because the slow roasting method works so well with lots of different meats in addition to pork, we are also able to offer everything from succulent sirloin of beef and tender spring lamb to whole roasted free- range chicken, amongst many others. All of our alternative meats are just as high in quality as our pork and prepared with just as much skill by our mobile chefs.
If you have guests with specific dietary requirements and you think hiring a hog roast company may not be a suitable option, think again. The Hog Roast Shrewsbury team put a great deal of effort into designing and preparing our menus to make sure our food is suitable for everyone. We offer an ample choice of vegetarian and vegan dishes for all of our menu options, as well as being able to offer you bespoke catering solutions to accommodate specific dietary needs. We have the flexibility to tailor any of our dishes to meet individual requirements and we will always go the extra mile to ensure every one of our diners has a great meal and a positive dining experience.
For special occasions and more formal dining, we can also offer you the option of a canape welcome reception with our own front of house team ready to greet you with platters of our individually handmade canapes, that offer the same variety as the rest of our menu. Whatever your catering and service requirements are, the Hog Roast Shrewsbury team are able to deliver it.
Hire Your Own Hog Roast Machine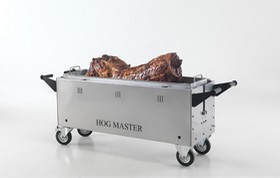 If you would love to treat yourself and your guests to a hog roast experience for a party you are planning, but you would prefer to do the catering yourself, we can give you the option of hiring one of our state-of-the-art roasting machines. One of our sleek yet efficient pieces of equipment is always a great focal point for any event and allows your guests to feel involved as they gather round to watch the meat cooking and savour the irresistible aroma of the slow roasted pork. What's even better is that our equipment is so user friendly that even a hog roast novice can produce excellent results without the cooking process being too labour intensive. If you hire one of our machines, you can impress your guests without even breaking a sweat. We will listen to your requirements very carefully and advise you on the best machine for your needs, depending on the size of your party and your venue. We will deliver the machine to you and give you all the support and guidance you need to get up and running and feel confident in operating it yourself. We can also advise you on where to source high quality pork from or even provide it ourselves. We will also pick the machine up again the next day and take care of cleaning it for you, and of course, if you do need any extra advice, a member of our friendly customer service team is only a phone call away.
The Hog Roast Shrewsbury team can offer you the best hog roast experience in Shrewsbury, whilst also providing you with extensive menu options that are ideal for any event and that take into consideration a range of different needs, not to mention a superior level of service from the time you make your initial inquiry right through to the end of your event.