Here at Hog Roast Shrewsbury we have many years' experience in event planning and catering for an eclectic array of events in this very cultural market town on the River Severn. We love working here and we take great delight in making lots of people happy on a regular basis with our mouth-watering slow cooked pork and professional approach to event catering. In addition to supplying the best hog roasts in the area, Hog Roast Shrewsbury can also provide flavoursome feasts and balanced menus that appeal to all tastes, as well as being able to provide suitable options for different diets.
Hog roasts are certainly not a new invention – in fact the technique of spit roasting meat slowly for several hours goes right back to medieval times. Hog Roast Shrewsbury's modern interpretation of hog roast catering celebrates this culinary tradition whilst also making it a suitable catering option for any occasion in Shrewsbury. We complement our fantastic hog roasts with modern menus that offer more than enough choice and variety to cater for all tastes.
When you think of hog roast catering, you may be under the impression that type of catering only works for large outdoor events in countryside settings, but the Hog Roast Shrewsbury team can assure you that this is not the case. Of course, our delicious hog roast sandwiches are perfect for large-scale outdoor catering, but we are able to adapt our approach in order to be a great catering option for special occasions, smaller private parties and more formal events too. We offer a variety of buffets and 3-courses meals in addition to our classic hog roasts, all boasting a broad mixture of diverse dishes.
Shrewsbury's Leading Hog Roast Company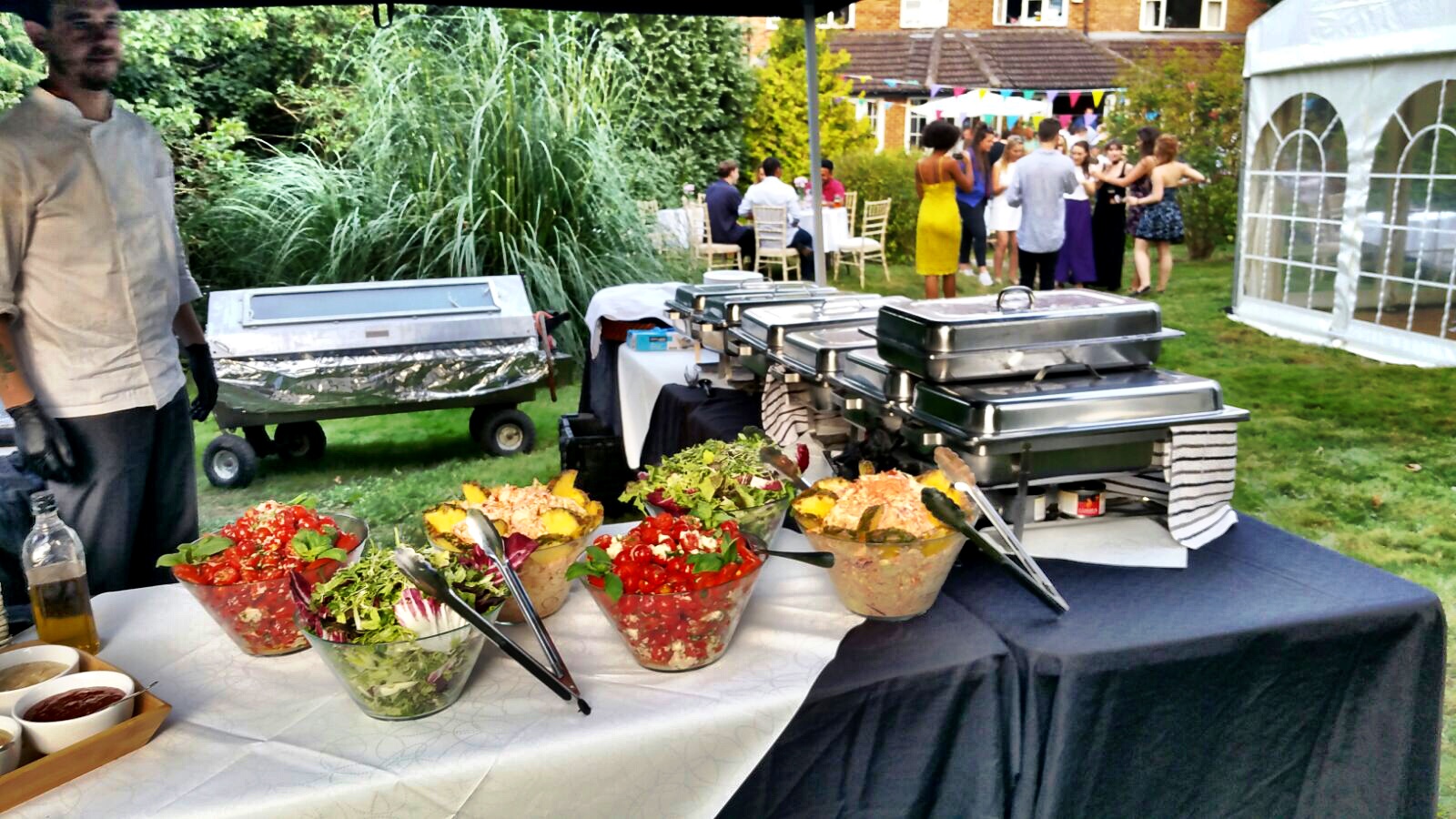 Thanks to our extensive experience and expertise in mobile event catering, we have gone on to become the leading hog roast company in Shrewsbury. The Hog Roast Shrewsbury team offer the perfect balance of high-quality food, full flexibility when it comes to menu options and the location of your event, and an excellent standard of customer service, which will be tailored to meet your specific requirements. We are able to cater in any type of venue in Shrewsbury, from large outdoor spaces to cosier indoor venues at any time of year because we have any incredibly versatile catering team who can perform at an extremely high level when catering in any setting, as well as industry-leading catering equipment that is both compact and multi-functional.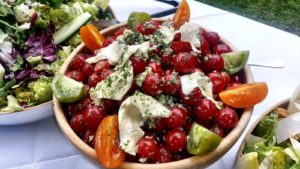 The Hog Roast Shrewsbury team are capable of catering for functions for any size and in any location. Our catering services work equally well for very large events and smaller parties in any type of outdoor setting or indoor venue in Shrewsbury. Both our versatile catering team and our adaptable catering equipment are at home just about anywhere in Shrewsbury.
We don't require any facilities on-site in order to be able to provide a high quality, freshly made menu for your event, so you don't need to worry about the catering practicalities when choosing your venue. We will prepare your meat on-site, and whilst it is being delicately cooked over the course of several hours, we will be busy making the rest of your menu from scratch too.
Here at Hog Roast Shrewsbury, we take the quality of our ingredients very seriously and everything we put on your plate will have been carefully selected from the best locally sourced produce that Shrewsbury has to offer, from our ethically reared meat to our free range dairy products and organic fruit and vegetables. The quality of our ingredients and our ability to prepare and present them to such an excellent standard, is something that we receive positive feedback about from our clients at every event we cater for.
The standard of service supplied by the Hog Roast Shrewsbury team will be just as high as the standard of our food. We will ensure everything runs smoothly and all of your guests receive excellent care throughout your event. We can tailor our style of service to suit your event, by offering either buffet service or a more formal sit-down meal with attentive table service provided by our own experienced events team.
Expert Event Catering For Any Occasion
Whether you need catering to feed the crowds at Shrewsbury's famous flower show or one of the town's many cultural festivals, a varied buffet on the banks of the River Severn for a private party or an elegant 3 course meal for your wedding reception, we have menus that cater for all type of occasions and for all budgets, tastes and dietary requirements.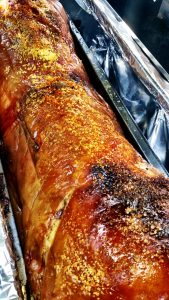 Hog Roast Shrewsbury aren't just experts at preparing perfectly cooked pork either. Even though our signature dish is the most popular option for our clients, we appreciate that different meats may be more suitable for some events. We have plenty to choose from, including whole roast chicken, sirloin of beef and tender spring lamb, all sourced from free-range suppliers and just as tasty as our pork.
You may feel that hiring a hog roast company might not be a viable option if you have guests with differing dietary needs to take into account but if you hire the Hog Roast Shrewsbury team, you won't have to worry about the food meeting their requirements. We want everyone to be able to enjoy our food, and our menus reflect how much thought we put into making sure that is possible.  We offer a flavoursome range of vegetarian and vegan dishes alongside our meat options, and we are happy to alter any part of your menu to cater for specific requirements, such as by providing gluten-free bread rolls and wraps for example.
If you want a more formal feel for a special occasion or corporate event, we have a whole host of stylish catering packages to choose from. We can help you get our event off to a great start by providing a canape welcome reception courtesy of our own friendly and efficient front of house staff, who will also show your guests to their seats if you have opted for a sit down-meal. Whatever you preferred service style is for your event, we will follow your requirements to the letter.
Hire Your Own Hog Roast Machine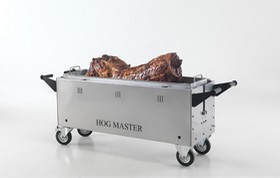 If you think a hog roast feast would be the dream catering option for an upcoming event, but you would rather not have professional caterers on-site, we have the ideal solution for you. As well as providing comprehensive catering services for any event in Shrewsbury, we also have a number of different machines available to hire. Hiring a hog roast machine from us is an affordable yet unique DIY catering option that your guests will love. If you don't have much catering experience, there is no need to worry – we will match you with a machine that suits your level of experience and how much food you need to provide.
We can provide you with a large capacity machine for a big event or a more compact model if you are planning a smaller garden party for example. We can also supply everything else you may need – whether it be gas bottles or some high-quality pork if you are struggling to source your own. We will make the whole process of hiring a hog roast machine from us as easy as possible for you by transporting your machine to your venue for you and giving you all the advice you need to use it effectively, as well as collecting it again after your event and cleaning it for you too.
The Hog Roast Shrewsbury team can offer you the best hog roast experience in Shrewsbury, whilst also providing you with extensive menu options that are ideal for any event and that take into consideration a range of different needs, not to mention a superior level of service from the time you make your initial inquiry right through to the end of your event.