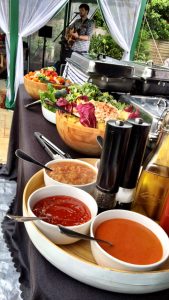 After nearly 30 years in the business, there is nothing the Hog Roast Shrewsbury team doesn't know about the fine art of hog roasting. We have lived and breathed it for so long, that has become a way of life for us, and we always get a buzz out of seeing people enjoy our food at every event we cater for. We have been privileged to be involved in many special occasions over the years and feel proud of the part we play in making everyone's day even more special with the superb quality of our food and service.
Our Individual Approach
 Here at Hog Roast Shrewsbury, we understand that every event is different and unique to the individuals involved. This is why we don't have a generic way of doing things and we change our style and menus to suit you. Because our way of cooking allows us to cater in locations that other companies would not even consider, we have learnt to adapt very quickly to any environment and feel at home in any location. Wherever we are cooking, we always prepare our fresh, locally-sourced ingredients from scratch on-site and liaise with you every step of the way to ensure everything is just the way you want it.  We will work closely with you throughout the entire process, from the planning of your event and menu choices, to the preparation and presentation of your food. If you need any added extras and or have any specific requirements, all you need to do is let us know and we will take care of the rest.
Our Versatile Menus
 We couldn't cater for the wide variety of events that we do, if we didn't have equally varied menus to match. Our classic hog roast buffets are always incredibly popular, especially for more laidback outdoor events, but if you are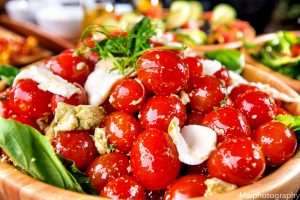 planning a more formal event and are struggling to find a caterer who can travel to your chosen venue, then look no further than the Hog Roast Shrewsbury team. We can offer you a fine dining experience at any indoor or outdoor venue in the whole of Shrewsbury and we have menus suitable for all occasions, complete with canapes, starters, desserts, vegetarian options, gluten-free substitutes and a choice of different slow-roasted meats. We take every detail into consideration and offer flexible menus that will meet the needs of all of your guests.